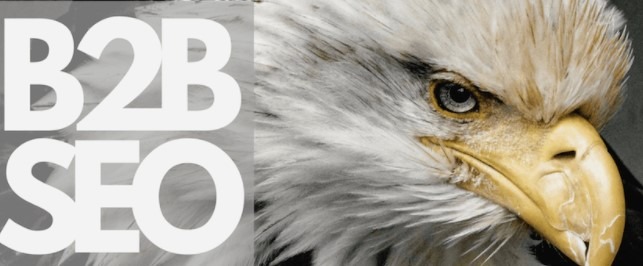 B2B​ ​SEO:​ ​Getting​ ​Found​ ​in​ ​2018
One​ ​thing​ ​we've​ ​heard​ ​from​ ​many​ ​B2B​ ​executives​ ​is​ ​that​ ​SEO​ ​strategy​ ​is​ ​far​ ​more​ ​effective​ ​for​ ​B2C companies.​ ​However,​ ​the​ ​reality​ ​is​ ​that​ ​the​ ​demands​ ​of​ ​customers​ ​have​ ​changed,​ ​and​ ​business buyers​ ​now​ ​search​ ​like​ ​consumers.​ ​They​ ​research​ ​before​ ​engaging,​ ​search​ ​reviews​ ​and​ ​referrals​ ​in order​ ​to​ ​establish​ ​an​ ​opinion​ ​of​ ​your​ ​company.​ ​This​ ​makes​ ​SEO​ ​and​ ​targeted​ ​digital​ ​marketing​ ​an important​ ​task​ ​for​ ​any​ ​B2B​ ​company.
Lead​ ​Generation
For​ ​B2B​ ​marketing,​ ​you​ ​need​ ​to​ ​drive​ ​the​ ​right​ ​users​ ​to​ ​your​ ​website​ ​at​ ​the​ ​right​ ​time.​ ​Not​ ​only​ ​this, they​ ​need​ ​to​ ​find​ ​the​ ​right​ ​information​ ​that​ ​stemmed​ ​from​ ​their​ ​initial​ ​search.​ ​SEO​ ​hugely​ ​benefits lead​ ​generation​ ​where​ ​the​ ​user​ ​is​ ​searching​ ​for​ ​a​ ​product​ ​or​ ​service​ ​you​ ​supply,​ ​ensuring​ ​the content​ ​delivered​ ​and​ ​shown​ ​in​ ​search​ ​results​ ​is​ ​specific​ ​and​ ​engaging.
Optimised​ ​Targeting
As​ ​with​ ​any​ ​successful​ ​B2B​ ​marketing,​ ​your​ ​digital​ ​strategy​ ​must​ ​be​ ​based​ ​upon​ ​your understanding​ ​of​ ​your​ ​audience​ ​and​ ​their​ ​mindset.​ ​Furthermore​ ​with​ ​B2B​ ​marketing,​ ​you​ ​need​ ​to consider​ ​a​ ​wider​ ​audience​ ​than​ ​single​ ​customers,​ ​where​ ​purchases​ ​depend​ ​on​ ​many​ ​people​ ​in​ ​a company.​ ​Your​ ​SEO​ ​strategy​ ​should​ ​encompass​ ​the​ ​different​ ​people​ ​in​ ​the​ ​decision​ ​making​ ​process to​ ​make​ ​sure​ ​you​ ​get​ ​the​ ​right​ ​content​ ​in​ ​front​ ​of​ ​the​ ​right​ ​audience​ ​online.
Brand​ ​Positioning
The​ ​bigger​ ​picture​ ​with​ ​B2B​ ​SEO​ ​is​ ​based​ ​on​ ​the​ ​positioning​ ​of​ ​your​ ​brand.​ ​Google​ ​and​ ​other​ ​search engines​ ​look​ ​to​ ​other​ ​websites​ ​(not​ ​just​ ​your​ ​own)​ ​that​ ​will​ ​let​ ​users​ ​read​ ​reviews​ ​and​ ​do comparisons.​ ​It's​ ​important​ ​to​ ​look​ ​beyond​ ​the​ ​search​ ​engine​ ​rankings​ ​of​ ​your​ ​own​ ​website​ ​for​ ​B2B website​ ​marketing.
Strategus are experienced in creating and implementing effective website strategies for B2B companies. Get in touch with us to how we can help.
The Strategus Team
strategus.co.nz