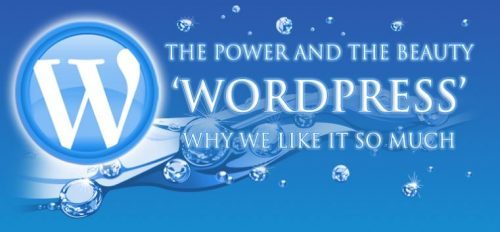 Why WordPress makes a great choice for your website!
In the many years we've been in business, our  web design and development approach has needed to progressively change to not only keep abreast of new technologies, but to make sure our clients are given the best possible solution out of all the available options.
Choosing a CMS (Content Management System) is a large component of ensuring our client's needs are met to suit their particular business requirements.
As pioneers in online retail systems , we've worked with a diverse range of CMS', including WordPress, Magento, Shopify, Drupal, Wix and more. We choose to design and develop websites on a particular platform only after carefully weighing up a client's specific needs and the offerings of the CMS.
With WordPress now being used by around 28% of websites , it is the most popular choice of CMS – and it's easy to see why. Read on to see what makes WordPress a great choice for your website.
OPEN SOURCE
WordPress is what's called an open source platform, which means its components are developed and maintained by web developers around the world who use openly available code. With hundreds of online communities, code is maintained and upgraded regularly to support growing website needs.
This means you don't pay any monthly fees for the software (you're free to download, install, use and modify it), and you're not locked to a single web developer – so if you're not happy with someone's work you can easily find someone else to take it over. Because WordPress is open source, developers can easily customise your website to suit your changing requirements.
FLEXIBILITY
WordPress was originally developed as a blogging platform, but due to its powerful core and the large number of plugins and developer community, it has quickly become the most highly used CMS for powering even large-scale ecommerce stores due to its great flexibility.
WordPress uses plugins which make it the most flexible CMS platform. Plugins are exactly how they sound; something you "plug in" to your website to enable a feature. Popular plugins for business sites include WooCommerce for online retail functionality, Wordfence Security to guard your site and Contact Forms for easy enquiry forms.
EASY SETUP, ADMIN AND UPDATES
Considering all the functionality offered via plugins, WordPress remains extremely easy to use even for website novices, where you can manage and update a WordPress website easily with rudimentary computer skills. Even if there's something you're not sure about, there's so much documentation on the inter webs that you're sure to find a solution.
The way in which the WordPress interface is designed is highly intuitive and makes it easy to create new pages, blog posts, edit photos and change settings. Once in a while you will need to make some updates, which are generally one-click installations and WordPress will notify you when these are available. Because WordPress is so easy to set up and maintain, the learning curve is fast compared to other popular CMS', allowing you more time and resource to focus on your business.
AFFORDABILITY
While some premium WordPress themes (web designs), plugins and custom development have an upfront cost, ongoing maintenance and support is low compared to other platforms.
WordPress allows you to design and develop a full fledged, uncompromising website on a low budget. In a nutshell, it offers everything you need for a full-scale professional website that's as good as any.
If you're designing a new website or updating to a new CMS, we can help. Read more about our web design & development services , or get in touch with us today.
The Strategus Team
strategus.co.nz